Help and support with alcohol and drug addiction is what we specialise in. Talk to one of our team or chat with us online!
WELCOME TO TREATMENT LINK
Addiction Advice and Services
Supporting you from Addiction to Recovery  Call us for help today on:  

01582 318597
WELCOME TO TREATMENT LINK
Addiction Advice and Services
Looking for help with drug & alcohol addiction can be a daunting task. Finding support can be difficult, especially if you are not sure if you need a Drug/Alcohol Detox, Rehab or a Recovery Coach. If you have a drinking problem or are suffering from cocaine addiction or prescription drugs have become problematic - We Can Help!
You may already know which of our services you need, but if you are not sure, please call our drug and alcohol support team to discuss the situation. After an initial consultation, (free and with no obligation) we can find the best way forward based on your needs and circumstances. If all you need is advice, thats all we will give! Visit our blog page for related articles and news, or  maybe your question will be answered in our FAQs 
FAMILY SUPPORT - INTERVENTION
Family Addiction Intervention 
Our family support services are an important aspect of the work we do. We work closely with family groups or individuals to gain an understanding of the addictive behaviour you are living with and how to intervene. Trying to convince your loved one to stop can be a painful and frustrating endeavour and leave you feeling exhausted. You will probably have approached them in various ways in an attempt to make them see the danger they are in. Reasoning and rewards for better behaviour might lead to you being trapped with your loved one in a cycle of enabling/manipulative behaviour. We can help you break that cycle through our Family Intervention Service
ADDICTION RECOVERY COACHING
One to One Support - Recovery Coaching
Our recovery coaching programmes are tailored to your needs and offer one to one support in changing addictive behaviour. We have found this form of engagement to be highly effective, especially in early recovery. While we suggest engaging one of our addiction specialist coaches immediately after residential treatment, you can work with one of our recovery coaches at any time. Find out more about support here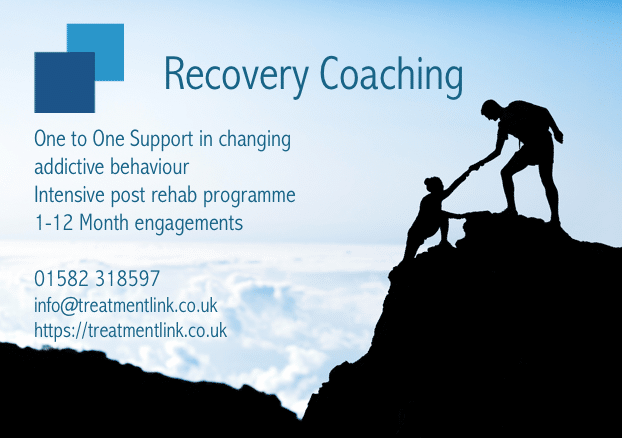 Support after residential addiction treatment is vital for a successful recovery. Treatment Link provides an intensive one to one service delivered by professionals that have worked within rehab centres and are able to continue with the work started in treatment. We create a post treatment recovery plan which is structured and can include drug and alcohol testing.This aftercare service can be arranged to begin immediately after completion of a rehab programme and are generally run for 3 - 6 Months.
Learn more about - Alcohol Addiction Treatment - Cocaine Addiction - Prescription Drugs
Our dedicated platform gives us the opportunity to work with you online. While we would always prefer to connect with you Face to Face, we recognise that this is not always possible. Geographic restrictions or work commitments do not have to exclude you from accessing our addiction services. Wherever you are - We can Help! Please contact us. You can find out more about online addiction services
SOBER COMPANION SERVICES
Sober Companion Transportation
Our sober companion services provide safe and comfortable transportation to and from rehab anywhere in the UK and internationally. All of our sober companions are highly trained with many years experience in supporting you on assignments, or for extended periods wherever needed. Contact us to arrange a booking
WHAT WE OFFER
Services at Treatment Link
Mindful Coaching

One of the elements of our recovery coaching programme includes direction in the practice of mindfulness meditation
We would like to help in the best possible way and so will invite you to talk to one of our Addiction Specialists. The call lasts for approximately 20 minutes and is free. You will be asked specific questions concerning your drug/alcohol use which will help us determine the best course of action to take. Our consultation and referral service is free. We manage to do this because of the small fee we charge some of the facilities we refer to. We will always consider the best treatment route specific to your needs and will gladly suggest various treatment options.
After your assessment, if treatment is needed, we can advise you on the treatment centres we have referred clients to and which we know to have excellent outcomes and have been successful in helping clients to beat addiction. If you wish us to arrange admission and transportation, we are happy to make all of the arrangements with the facility and transport you from your home to the drug/alcohol rehab centre. Contact Us for information on detox and rehab facilities in your area
Support after treatment is vital in maintaining sobriety and our commitment to you does not end at a rehab. We offer our clients personal Coaching from one of our Certified Recovery Coaches for 6-12 months. Our coaching services offer one to one support and guidance. This service can be included as part of a package and at a reduced and competitive price. Find out more about our  Recovery Coaching programmes
LATEST NEWS
Latest Blog Posts, Articles and More
Addiction – A Family Illness There is no doubt that addiction is a family illness. Someone using drugs and alcohol affects family members and often ties them into a painful ...